TAKEOFFS & MATERIAL CALCULATIONS
Your sales reps shouldn't have to be mathematicians
With ArcSite, your reps can easily create CAD-quality job sketches that price themselves and instantly calculate your materials needed.

Spend more time closing and less time working on spreadsheets. You can easily measure the materials you need for each job with ArcSite.
Instant on-site material calculations
ArcSite automatically calculates the materials needed for a job, so you don't have to.

Simply draw your scope of work and ArcSite does the rest.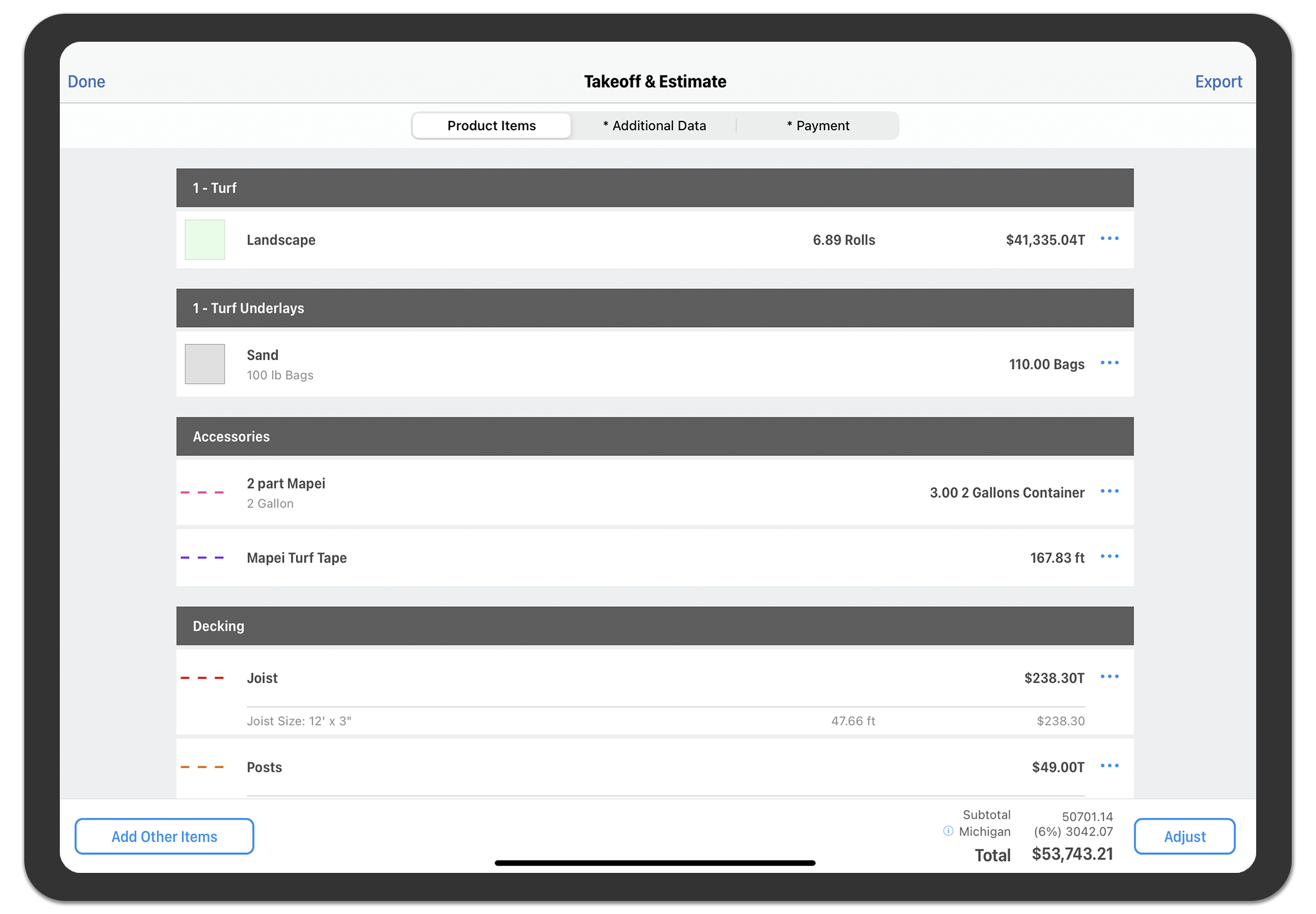 Accurate orders, every time
Avoid over-ordering for a job, and never worry that you won't have enough materials to get it done.

With ArcSite, you have a clear list of materials for every project.
The takeoff & material list software of choice for residential contractors
ArcSite helps improve your team's output from the office to the field with precise and professional drawings.
Ready-to-send material lists
After each quote, you'll have a list of materials ready at the tap of a button.
Speed up lead time by ordering materials as soon as your customers sign the contract.
ArcSite offers an intuitive and user-friendly interface, making it easy for users of all levels to create takeoffs with precision and efficiency.
Ready to improve takeoff and material lists ArcSite?
Start your free 14-day trial today, or speak to a product expert for a personalized demo.
FAQ
Have questions about ArcSite's Takeoff & Material List Capabilities?
How does ArcSite compare to competing material list and takeoff software?
ArcSite stands out from competing material list and takeoff software due to its user-friendly interface, CAD-level precision drawing capabilities, cloud collaboration features, integration options, and the convenience of being a mobile solution.
These unique qualities make ArcSite a comprehensive and accessible choice for professionals in various industries requiring efficient material lists and takeoff capabilities.
Is it easy to create material lists in ArcSite?
Yes, ArcSite makes it easy to create material lists by allowing users to quickly and accurately generate comprehensive inventories of required materials for construction projects directly from their site drawings.
What is a digital takeoff?
A digital takeoff refers to the process of quantifying and measuring construction materials using digital tools and software, eliminating the need for manual calculations and allowing for efficient and accurate estimation of quantities.