Increase your closing rates and boost your margins.

Offering financing options allows your customers to pay over time, not all upfront. This makes the cost of your work more manageable to your customers and can lead to larger sales for your team.
Get paid as soon as the work is complete.


No more tracking down customers for payment. With Wisetack and ArcSite, the full payment is sent to your bank account while your customers can pay over time.
Offer a seamless experience for your customers.


Stand out from the competition by offering Wisetack's consumer-friendly financing. With Wisetack and ArcSite, the application is quick and offers multiple payment options.
1. The option to pay by financing is included in the estimates you present from ArcSite.
2. If your customer selects the Financing option, the quick application will be sent to them via text message.
3. When you complete the job, the full payment will be sent directly to your bank account.
The only cost to you is 3.9% per transaction. No set-up fee, flat fee per transaction, or credit card processing fees apply.

Easy for your customers
Consumer-friendly Financing

Easily offer your customers monthly financing options by connecting ArcSite to Wisetack. Customers fill out a short application, get a quick approval decision, and choose a monthly plan.

You get paid as soon as the work is complete, while the customer pays Wisetack over time.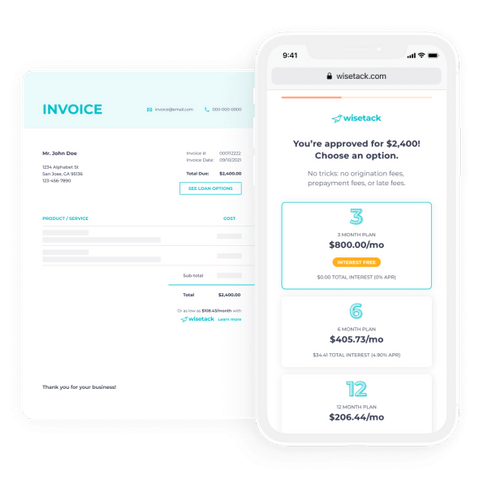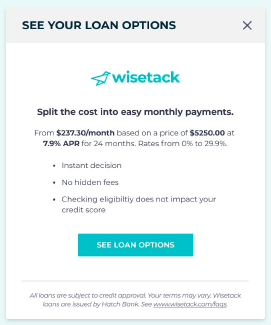 Win More Jobs
Offset Sticker Shock with Payment Over Time
Financing can help bring big purchases within your customer's reach or give relief on emergency jobs they did not plan for.
Thousands of businesses choose ArcSite as their choice of drawing and estimation software
Estimators, Technicians, and Inspectors from all kinds of industries love ArcSite.
From presenting visual sales proposals to gathering in-depth site data, ArcSite does so much more than amazing drawings.
FAQ
Still have some questions?
Is this Wisetack financing integration available to all tiers of ArcSite?
No, integrations are currently limited to the Enterprise tier of ArcSite.
Is the Wisetack + ArcSite integration easy to use?
Yes, it's very easy!

Our friendly Customer Success team will help you get everything set up and ensure your team is trained.
Your customers will apply directly on their own mobile devices. You will then select financing as their payment option in ArcSite.
How much can customers finance?
Your customers can finance anything from $500 to $25,000 depending on approval.