Eliminate manual processes and double-entry
Automatically create projects in ArcSite using data in TRUE

Import line item (quantities, pricing) and drawings into TRUE
STEP 1
Enter and manage leads in TRUE.
STEP 2
Begin a new quote in TRUE and sync it into ArcSite, creating a new project.
STEP 3
Utilize ArcSite's tools to create a drawing generating measurements and pricing.
STEP 4
Import that information back into TRUE where you can complete the life cycle of the project all the way into invoicing.
ArcSite and TRUE together will enable a seamless start to finish to your sales process for your team.

Turn leads into projects
Push and pull data between TRUE and ArcSite

Manage your sales leads in TRUE. When ready, convert that lead into a quote in TRUE then sync it over creating a project within ArcSite.
Utilize ArcSite's drawing tools to draw and map out your fencing project.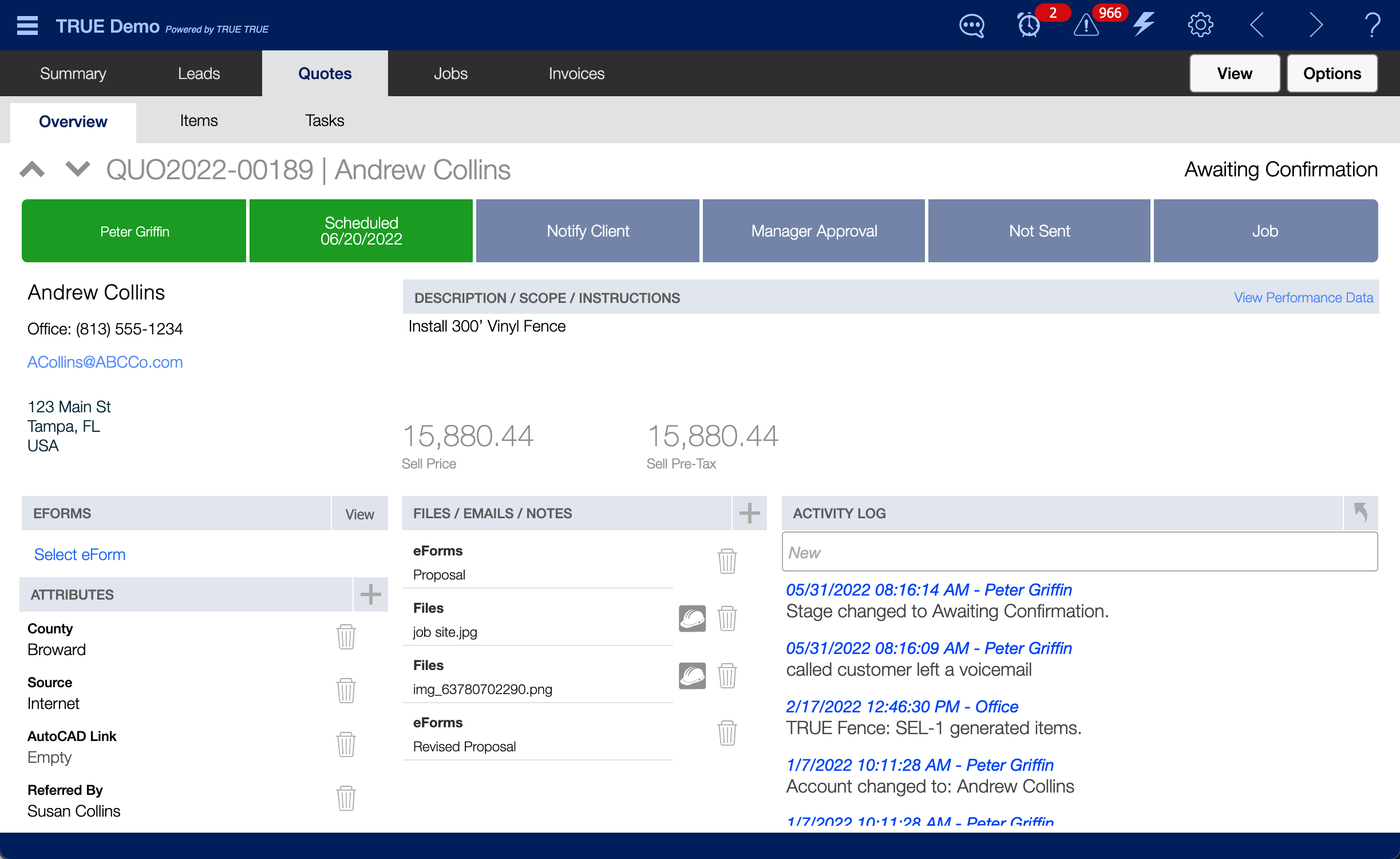 Stay in sync
Pull product info and drawings from ArcSite back into TRUE
Generate a proposal and send it off to your customer utilizing TRUE's eSign functionality.
Close more deals quickly by creating and sending accurate, clean-looking proposals with the help of ArcSite and TRUE.
Thousands of businesses choose ArcSite as their choice of drawing and estimation software
Estimators, Technicians, and Inspectors from all kinds of industries love ArcSite.
From presenting visual sales proposals to gathering in-depth site data, ArcSite does so much more than amazing drawings.
FAQ
Still have some questions?
Is this TRUE integration available to all tiers of ArcSite?
No, integrations are currently limited to the Enterprise tier of ArcSite.
Is the TRUE + ArcSite integration easy to use?
Yes, it's very easy!

Our friendly Customer Success team will help you get everything set up and ensure your team is trained.
Does TRUE cost extra?
Yes. TRUE is a cloud-based construction ERP sold on a subscription basis, however the integration between ArcSite and TRUE is free. You can view TRUE's pricing here.